Why Sign Up?
This Enterprise IM Services Portal (eim.zionsoftware.com) hosted Zion Software, LLC is available as a public demonstration of Zion's enterprise IM solutions including JBuddy Messenger and JBuddy Message Server. Sign up now!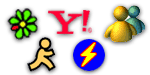 The most popular instant messaging programs
eim.zionsoftware.com service supports all your favorite instant messaging programs including
AOL Instant Messenger
,
ICQ
,
MSN Messenger
, and
Yahoo! Messenger
.
Need to log/archive your Instant Messages?
Using JBuddy Messenger and this public demonstration of JBuddy Message Server, your instant messages are logged and archived for easy web-based retrieval.
Ready to try it? Sign up now!
AOL Instant Messenger and ICQ are registered trademarks of America Online, Inc. MSN Messenger is a registered trademark of Microsoft, Corp. Yahoo Messenger is a registered trademark of Yahoo, Inc. All other graphics are copyrights of their respective owners. JBuddy (TM) is Trademarked and Copyright © 2000, 2001 Zion Software, LLC. All rights reserved.